Do you want to help?
Every new pilgrimage demands lots of organisation, with which Christine is happy to accept some help: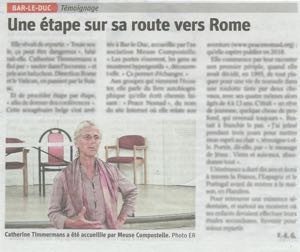 * From now on, all stages along existing pilgrimage routes and the exact dates on which she will arrive, are determined in advance. Who wants to participate in this to organise and document a smaller or larger conference at each stage?
* Given her age and the great physical and mental efforts, she needs better nutrition on the way, with a great deal of raw fruit and vegetables. Who wants to offer her a healthy meal?
* She sponsors this Peace Project herself by raising White Swiss Shepherd puppies in between two pilgrimages. Who wants to give one of her four dogs a good home during her pilgrimage?